Landscape of Hope x BAM, Quebec (2022)
Albertan high school students are artists-in-residence at Concordia's Centre for the Study of Learning and Performance
Postdocorate researcher Jessie Beier connects Landscape of Hope with the Bennett, Argyll, and Metro learning centres in Edmonton
Written By Amelia Wong-Mersereau of Concordia University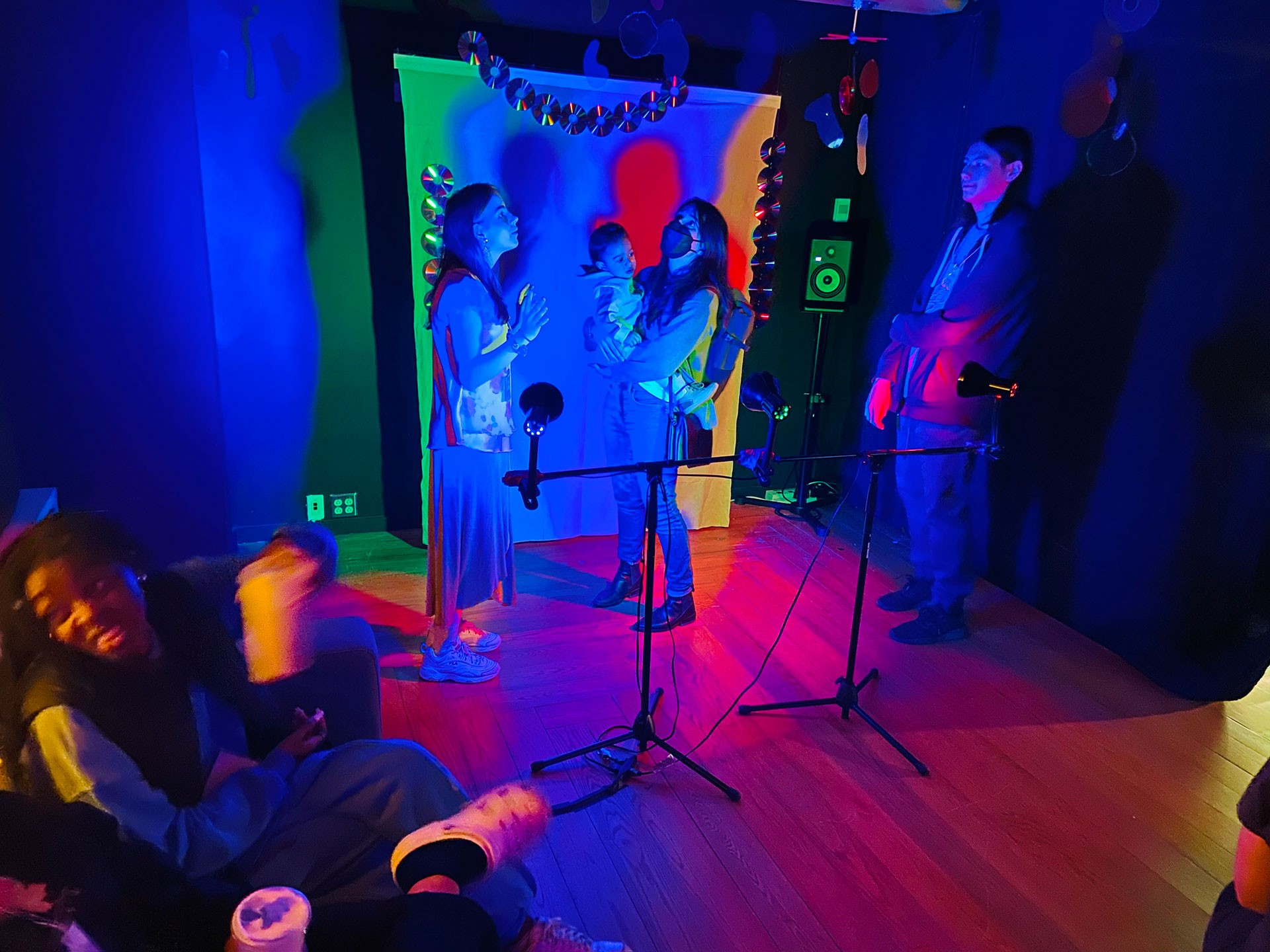 Students and visitors at the Unseen and Unheard end of residency show held at the CSLP.
Eleven students from public schools in Edmonton, Alberta, spent a week in Montreal at a research-creation residency at Concordia's Centre for the Study of Learning and Performance (CSLP).
The LOHxBAM residency – named after the CSLP's Landscape of Hope project and the Bennett, Argyll, and Metro learning centres in Edmonton – was co-organized by Jessie Beier, a Horizon postdoctoral fellow at the CSLP, and Owen Chapman, an associate professor in the department of Communication Studies and a member of the CSLP.
They were joined by artists Amanda Gutiérrez, José Cortés, Mairin Miller, Lucas Thow, Annabelle Brault, Angus Tarnawsky, Veronica Mockler, and members of the Initiative for Indigenous Futures Lab, who held workshops on soundwalks, documentary work, character design, very low frequency recording, installation art, deep listening, and DJ techniques.
'If I could do this every day as opposed to regular school, I would'
From October 17 to 21, students collaborated on a research-creation project that they presented at the end of their week. The theme of the project was Unseen and Unheard, referring to that which is difficult to see or hear, or requires close attention.
"We gave them some themes to work with and then we fully backed up and let them have a voice," says Beier. "I'm really proud of how they took that up very quickly and very adeptly."
"This program made me think about all the things you can hear in a city that your mind just shuts out," says Evangelina Desjarlais. "I feel like now, when I'm sitting in a room, I can hear the pipes in the walls and the sound of the light humming."
"I really liked the workshops," adds Desjarlais. "It was a lot of fun to learn skills that we could use. If I could do this every day as opposed to regular school, I would!"
AO Abdifata says they really learned a lot from the soundwalk with Amanda Gutiérrez, because "we realized that we don't pay attention to how beautiful places can be, sound-wise."
"What surprised me was the learning style. I've never felt like I understood so much when it came to learning, because it was hands on," says Abdifata. "They gave us the concepts and then let us take control. I loved that part. This will show that students are capable of more than what's expected of us."
Reimagining teaching in relation to what students want
By the end of the week, an immersive listening room installation was on site at the CSLP in the GA Annex on the downtown campus, titled Hidden Layers, that was open to the public for the afternoon.
Student-researchers Evangelina Desjarlais, AO Abdifata, Emerson Piche, Kadyn Ng, Evan Ng, Ttchtchara Francois-Taylor, Xiarh Francois-Taylor, Eternity George, Tanaka Nemutambwe, Gemma Palmer, and Braxton Auigbelle were all present to celebrate their accomplishments.
Every aspect of the listening room was participatory: passages of poetry, lyrics and other citations appeared on a wall through an overhead projector; a launchpad was available for mixing beats with sounds collected by the students; two rotary dial telephones sat on a table, playing stories for anyone who picked up their handsets; and students also explored how light and colour related to sound, with a subtractive light experiment set up in front of a sheet for visitors to play with their overlapping shadows.
"A lot of the youths were really interested in questions of identity formation and intersectionality, and those are not themes we introduced to them." says Beier.
But that's the point, she explains. Beier studies the ways in which pedagogy, in and outside schools, responds (or not) to the convergence of crises that many young people are themselves grappling with in their own lives, like climate anxiety, the rise of authoritarianism and toxic media ecologies.
This residency provided everyone with a site to think through how teaching could be reimagined in relation to the desires of the students at the centre of the experience.
'Many of them had never left Edmonton, so it was a big deal to come all this way'
The LOHxBAM residency is latest part of a broader collaboration between Beier and the BAM centres in Edmonton. BAM offers a wide range of alternative programming within Edmonton's public school board, Beier says. After completing her PhD, she began working as a consultant with them to develop new ways to document their experimental pedagogical work.
Around the same time, she started her postdoc at Concordia, working on Landscape of Hope (LOH) with Chapman.
"The BAM folks were super interested in the work Landscape of Hope has done with communities to explore difficult questions through creative/artistic means," Beier says.
That led to a series of workshops last March with over 200 youth on sound mapping, deep listening, and music creation in Edmonton.
"The youth were super into it, which led to a second workshop series to create a multi-media performance. They created beats, recorded, sampled one another's voices, and pulled it all together into a performance for families and friends."
Several youth and teachers approached her afterwards wanting to continue the collaboration. That's when She and Chapman came up with the idea of bringing them to Concordia.
"This gave them the opportunity to take part in a residency where they would be put into the role of artists. Many of them had never flown, or even left Edmonton, so it was a big deal to come all this way. And they thrived."
The whole experience has been eye-opening for Beier and she is keen to continue working with Chapman, the BAM students and teachers in Edmonton next Spring.
The LOHxBAM residency was made possible through funding provided by SSHRC, Concordia's Centre for the Study of Learning and Performance (CSLP), and Bennett, Argyll, and Metro Centre for Education as part of Edmonton Public Schools.